Steps for Adding the Network Printer(Mac OS)
Before proceeding on the setting, please notice below items in advance:
Make sure the MAC computer can print directly when connected to the printer.
MAC System can recognize the printer which with 9100 Port only, and unable to recognize the printers which with 9101/9102/9103 Port.
MAC System support most of the brand printers such as HP, Brother, Samsung; Support few limited models for Canon and Epson.
MAC System support to print via HP Jetdirect-Socket Protocol, not support the IPP,LPD Protocol
Steps for MAC system to add the printer:
1. Choose the "System Preferences":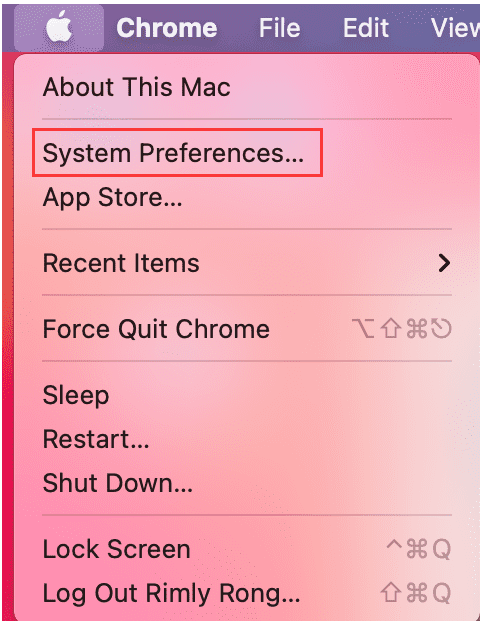 2. Choose the "Printers & Scanners"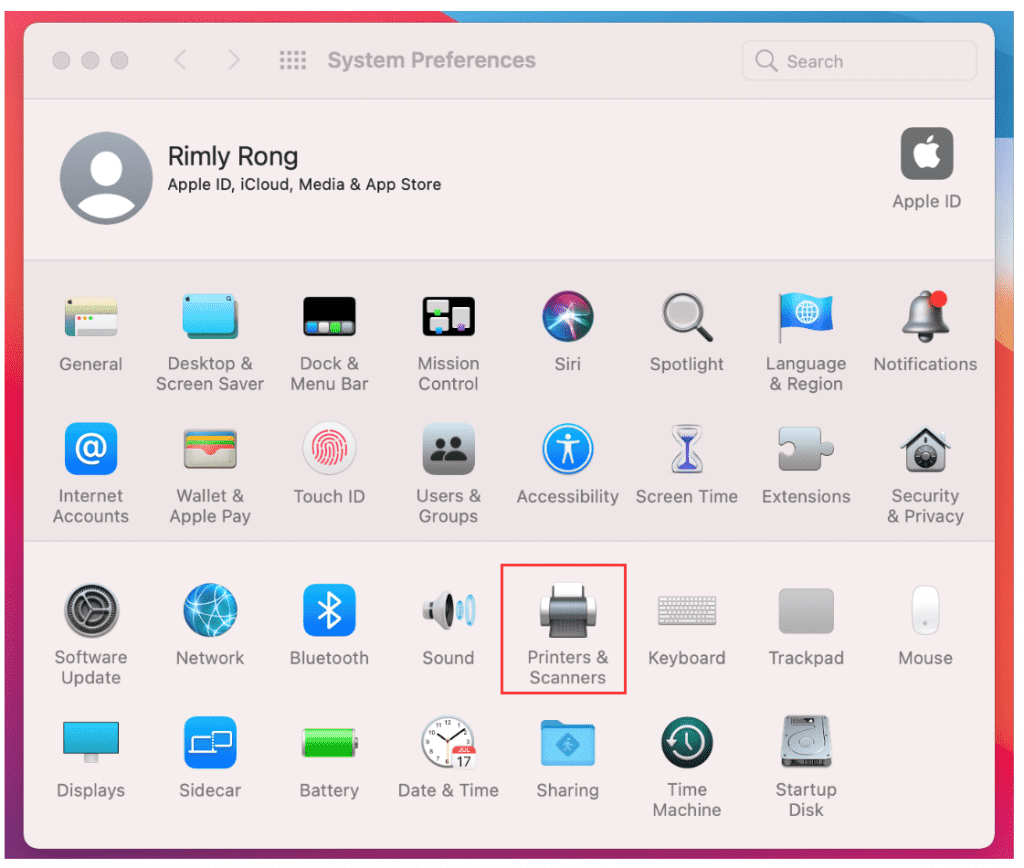 3. Click"+", to add the Printer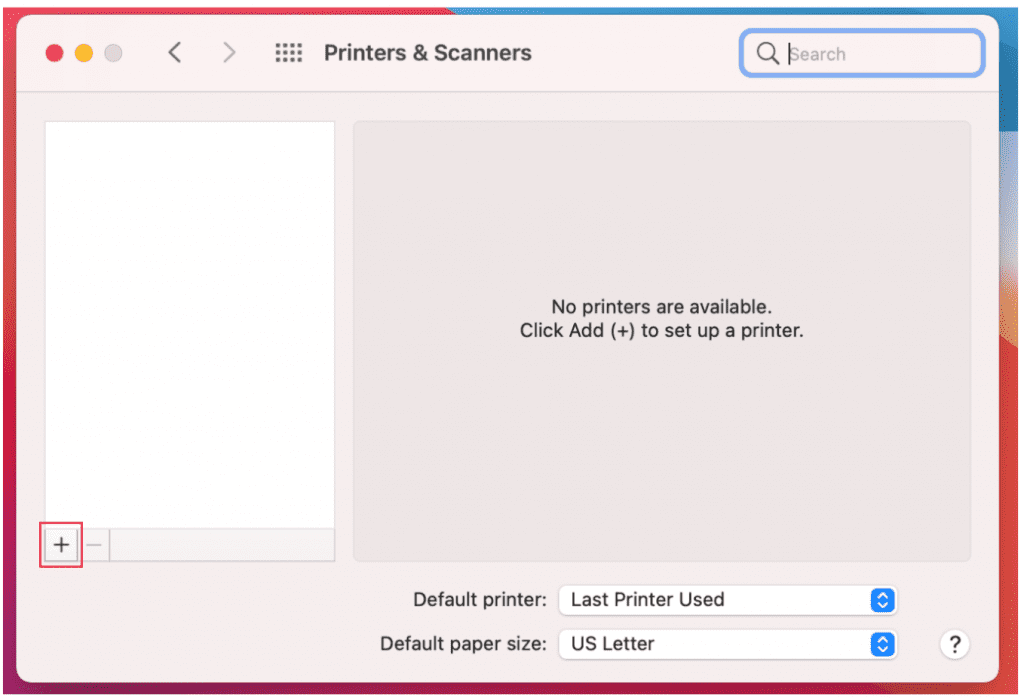 4.Choose the "IP" Option, to fill in the printer information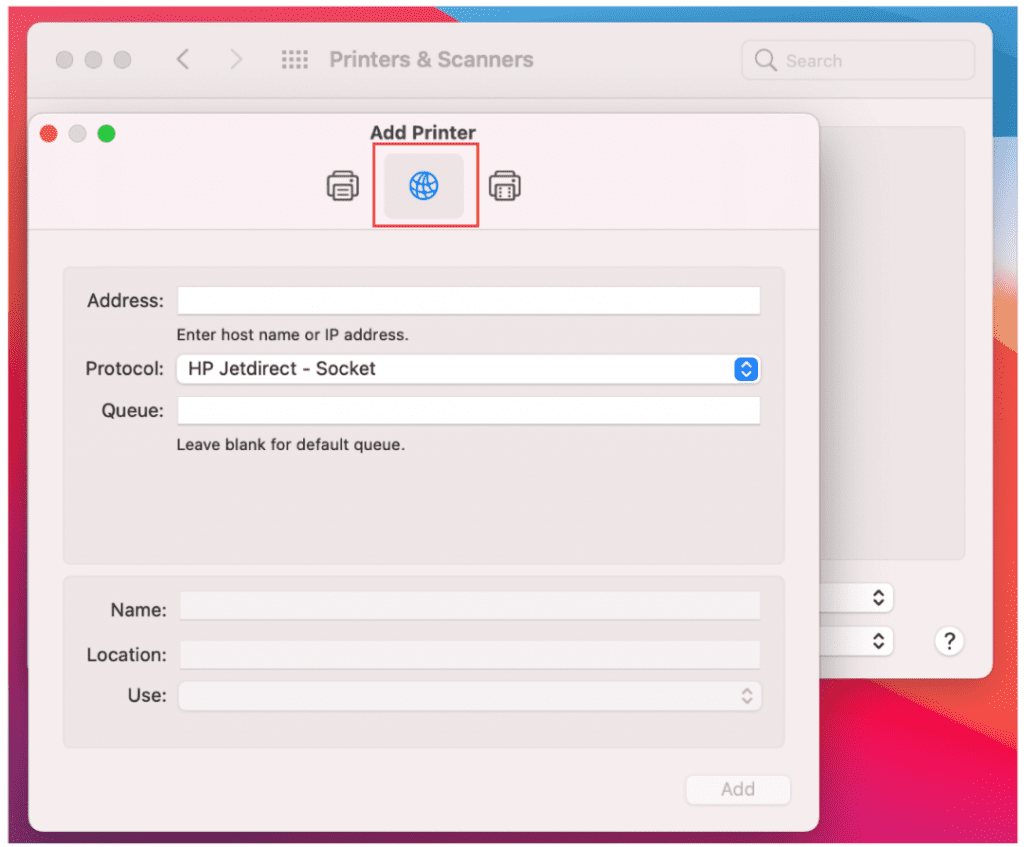 5. Remarks:

*Address: Input IP Address or Host Name (the print server IP address)
* Protocol: HP Jetdirect-Socket (HP and other printer manufactures are using this protocol)
* Use: Select Software
* For other items just keep the default options.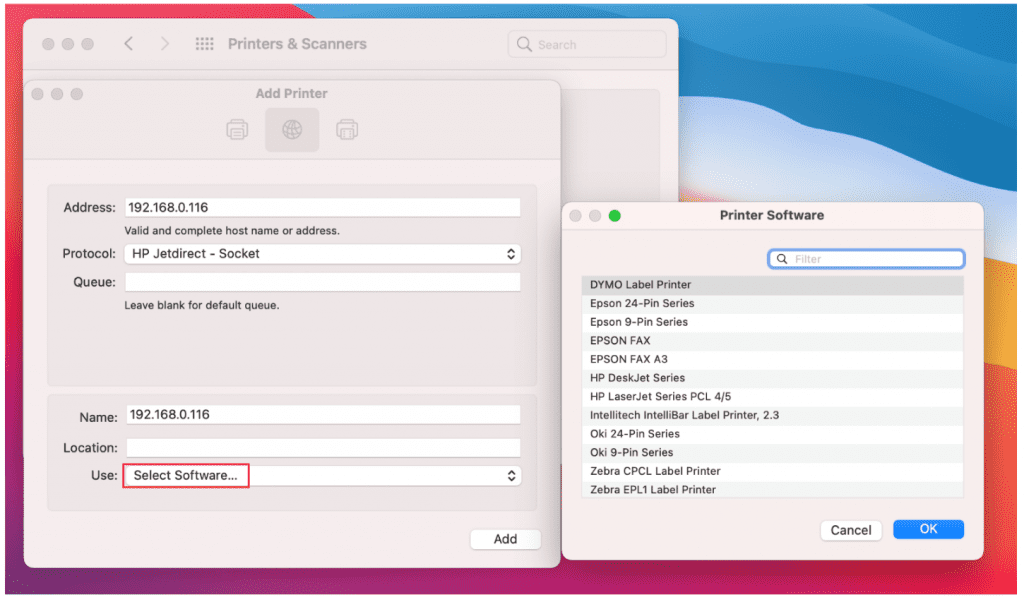 6. Choose the right printer software from the listing. You can use the "Filter" function for quick search. If you can not find your printer software from existing listing, please go to the printer's website to download the MAC driver. After finding your printer software, please click "OK"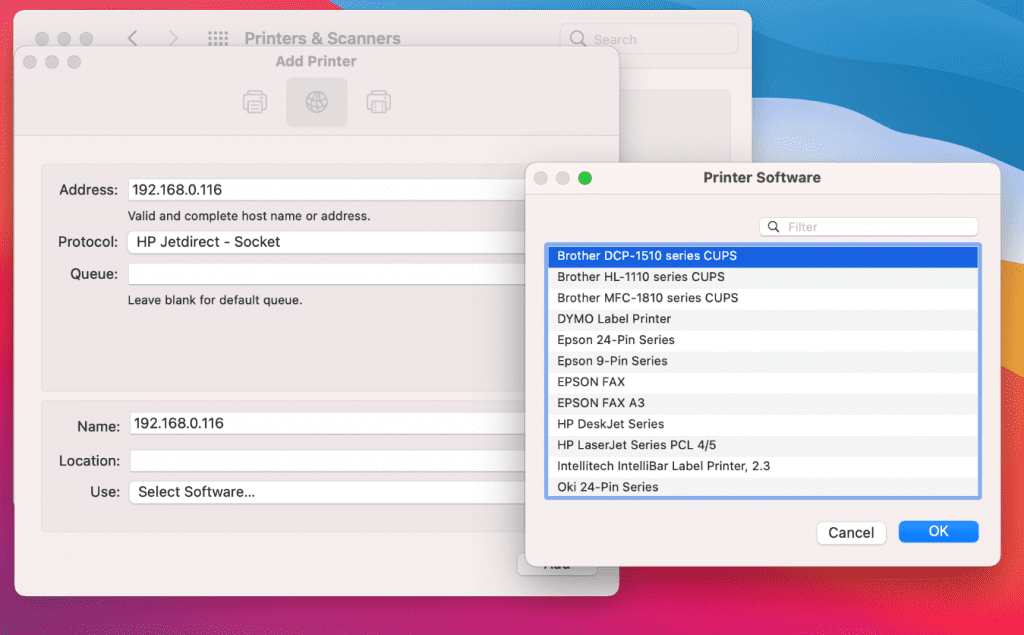 7.
Finish the printer software installation
(The Brother DCP-1510 printer can print now)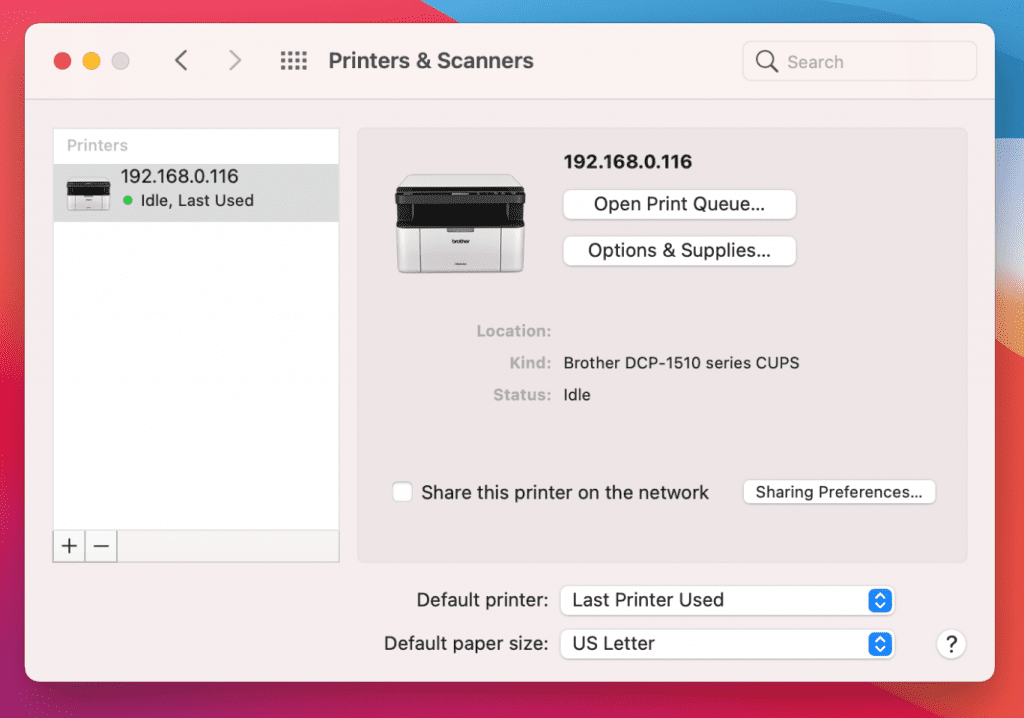 | Printer Model | MAC OS | Windows OS | Remarks |
| --- | --- | --- | --- |
| EPSON Lxxx | No | Yes | – |
| EPSON L358 Series | No | Yes | – |
| EPSON L350 Series | No | Yes | – |
| EPSON L355 Series | No | Yes | – |
| Epson ME office 1100 | No | Yes | – |
| MFC-8530DN | Yes | Yes | Common PostScript Printer |
| Samsung CLP-360 | Yes | Yes | Printer connect to the MAC for driver installation, after that connect to the print server |
| HP LaserJet Pro MFP M126a | Yes | Yes | Choose LaserJet Pro MFP M126a during the installation |
| HP LaserJet Pro MFP M125a | Yes | Yes | LaserJet Pro MFP M125a |
| FX DocuPrint M158b | Yes | Yes | FX DocuPrint M158 |
| HP LaserJet M1005 | Yes | Yes | HP LaserJet M1005 |
| Lenovo M7150F | Yes | Yes | Lenovo M7150F |
| FujiXerox DocPrint CM215 | Yes | Yes | FX DocPrint CM215 b v1.071 |
| HP LaserJet Pro M1136 | Yes | Yes | HP M1136 1.7 the Print Queues cannot be deleted automatically after the task is printed(Solution: Click Bi-directional via the printer setting menu) |
| Brother MFC-7470D | Yes | Yes | Brother MFC-7470D CUPS |
| Brother MFC-7340 | Yes | Yes | Brother MFC-7340 |
| Brother DCP-1510 | Yes | Yes | Brother DCP-1510 Series CUPS |
| Samsung SCX-4321 | Yes | Yes | Samsung SCX-4321 |
| Samsung ML-1670 | Yes | Yes | Samsung ML-1670 |
| Brother DCP-7080 | Yes | Yes | Brother DCP-7080 CUPS |
| HP LaserJet Pro M1136 | Yes | Yes | HP LaserJet Pro M1136 MFP Server 1.7 |
| Brother MFC-7360 | Yes | Yes | – |