Traffic LPR License Plate Recognition 9MP IP Camera for Highway Parking Lots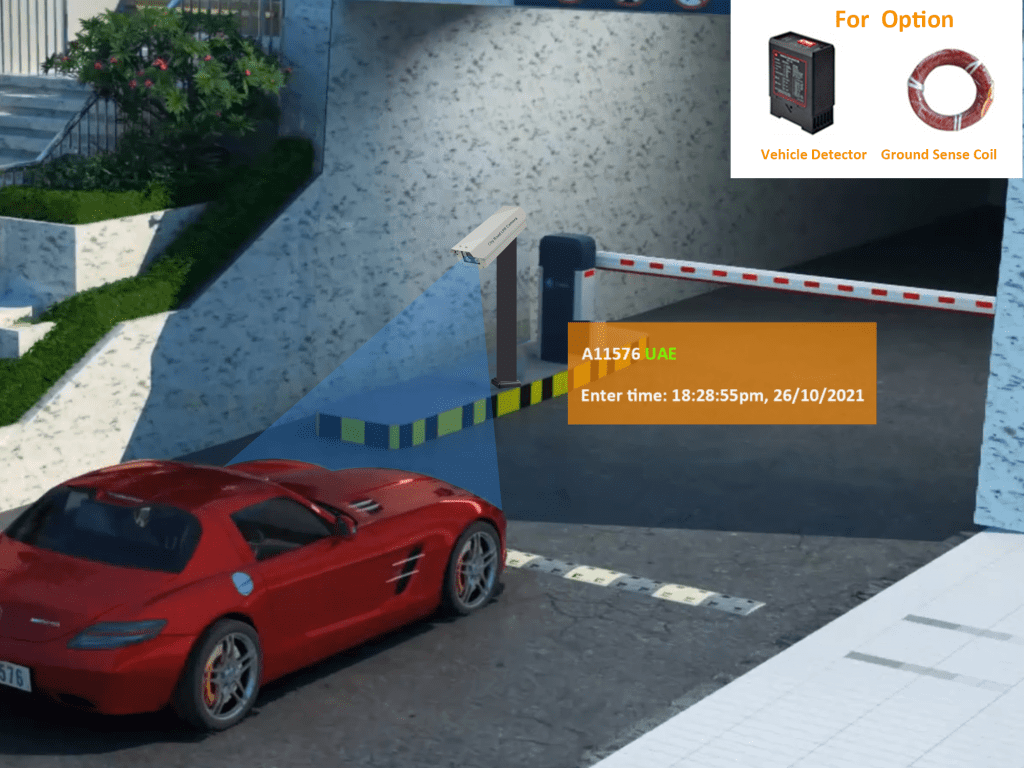 LOYALTY-SECU LY-ITLR-900 Intelligent traffic LPR camera system with built-in 9 Mega pixel high definition global shutter CMOS sensor, ensure the high resolution, super low illumination, high frame rate, excellent color reducibility.
It equipped with the high performance lightning & surge protection devices, adopting the latest license plate recognition which based on the Deep learning algorithm, brings the higher accuracy of the objects behavior detection and feature recognition.
Our Intelligent traffic LPR cameras particularly suitable for city road, entrance/exit of the highway, toll station, large scale parking lot, traffic light junction etc.
2. Highlights of Traffic LPR Camera
Adopt 1 inch 9 Mega pixel high frame rate colorful global shutter HD CMOS, and max resolution 4296*2160P@120fps.
This camera with anti-dust, water-proof housing, built-in LED supplements light & lightning/surge protection device
Output image format: JEPG
Support flash light & LED strobe light work simultaneously. When using the flash light, the camera is capable of getting the clear image of driver and crew's face.
Support the trigger methods, such as virtual loop, video, image etc.
Support the data recognition of vehicle's license plate, type/color, vehicle's mark/brand, pendant, safety belt, sun visor etc.
Support 11 color's recognition(white,grey,yellow,pink,red,purple,green,blue,brown,black,cyan)
Vehicle recognition types: bus, medium bus, truck, van, car, SUV
Support work with vehicle detection processor,radar, supplement light
Support data upload via remote control, and the captured images can be uploaded to the terminal server, FTP server or other specified platform
3. Main Function of ANPR Software
Support more than 120 countries license plate recognition
Support Entry and Exit parameter settings
Support LED display screen information customization
Support Payment rules setting (support eight types' payment rules)
Support Authorization setting
Support Operator and parking profile
Support Registration of vehicle number plate
Support Renewal/Recharge for the registered vehicle
Support Error correction of vehicle number
Support Surveillance pf software, view of vehicle image, payment information and support manual input vehicle number (Max 20 characters)
Support View of vehicle record and operator record
Support View of operator charge report, entry & exit vehicle report and parking fee report
4. The Workflow of ANPR Solution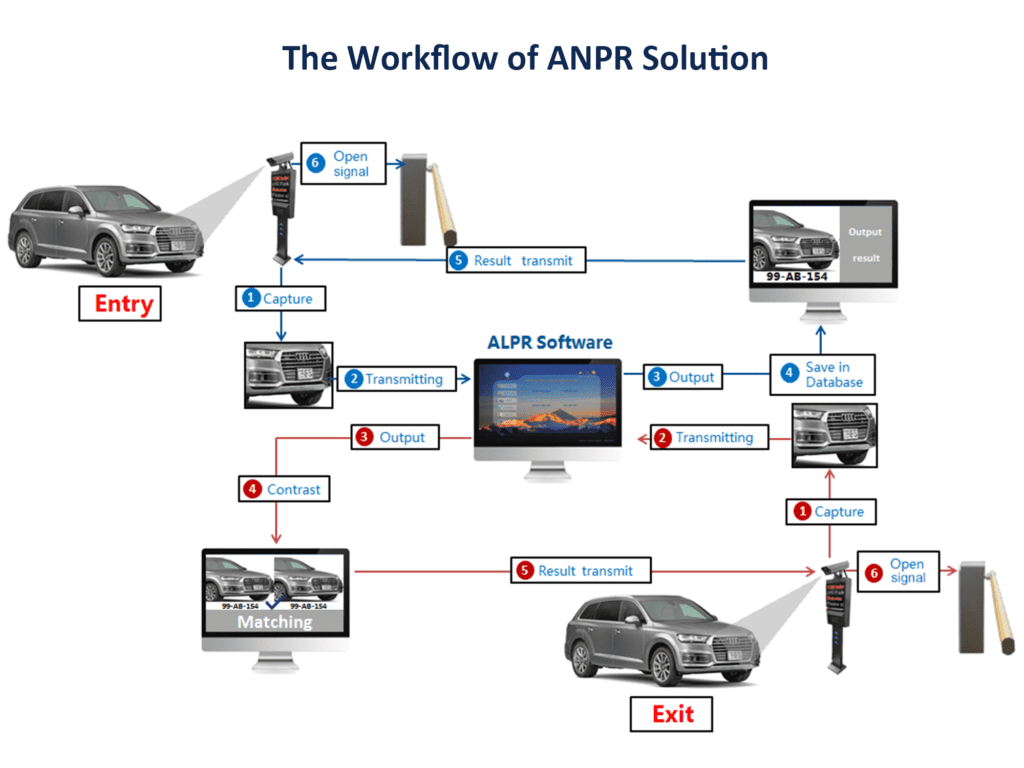 Process description:
Entry: the license plate recognition camera captures an image by means of vehicle head detection or loop coil trigger or camera detector, and the image is transmitted to the software.
The software algorithm recognizes the image, writes the recognition result into the database and returns it to the camera, and the camera sends the switch signal to barrier switch.
Exit: the license plate recognition camera captures an image by means of vehicle head detection or loop coil trigger or camera detector, and the image is transmitted to the software.
The software algorithm recognizes the image, outputs the recognition result and compares it with the entrance recognition result in the database. The comparison is successful and the result is returned to the camera.
5. The Interface of ANPR Software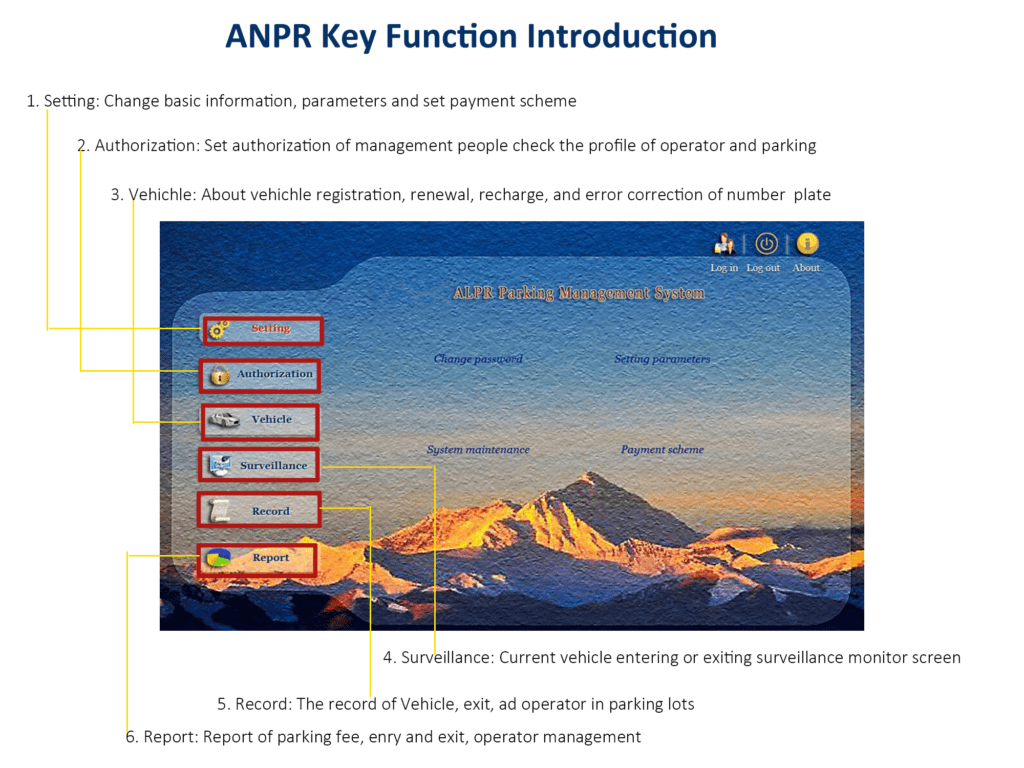 6. Support Multiple Languages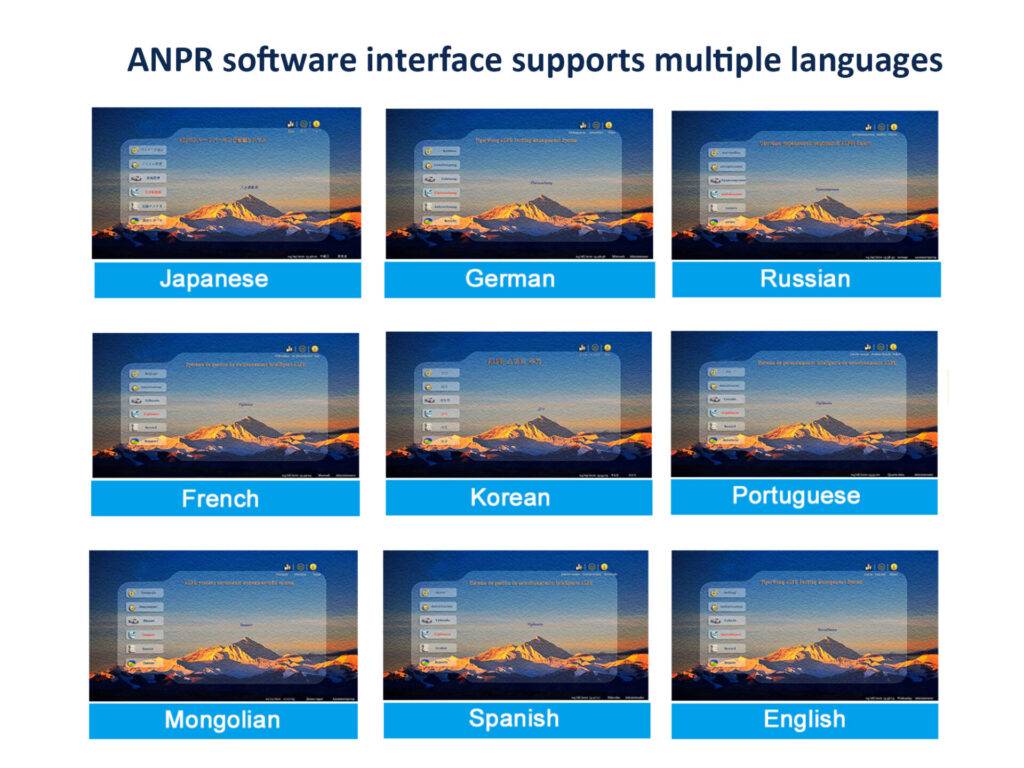 7. Support Global License Plate Recognition Ability over 120 Countries
LOYALTY-SECU ANPR algorithm supports recognizing the countries' vehicle license plates below:
China, Hong Kong, Thailand, Taiwan, South Korea, Japan, Singapore, Malaysia, Vietnam, Saudi Arabia, Armenia, Georgia, Indonesia, Macau, Kazakhstan, Kyrgyzstan, Mongolia, Philippines, Tajikistan, Qatar, Sri Lanka, UAE, Turkey, Myanmar, Lebanon, Syria, Iraq, Laos, Azerbaijan, Cambodia, Cyprus, East Timor, India, Israel, Jordan, Palestine, Sri Lanka, Uzbekistan, Spain, Portugal, Latvia, Belarus, Bulgaria, Denmark, EU standards, France, Poland, Russia, Albania, Austria, Belgium, Bosnia and Herzegovina, Croatia, Czech Republic, Estonia, Finland, Greece, Hungary, Iceland, Ireland, Italy, Lithuania, Luxembourg, Netherlands, Norway, Romania, Slovakia, Slovenia, Sweden, Switzerland, United Kingdom , Kosovo, Mexico, United States, Canada, Costa Rica, Cuba, El Salvador, Guatemala, Honduras, Puerto Rico, Brazil, Argentina, Bolivia, Chile, Colombia, Ecuador, Paraguay, Peru, Uruguay, Venezuela, Kenya, Mauritius, Sierra Leone, Tunisia, Uganda , Algeria, Botswana, Cameroon, Cape Verde, Ghana, Namibia, South Africa, Australia, New Caledonia.
6. Different Installation Environment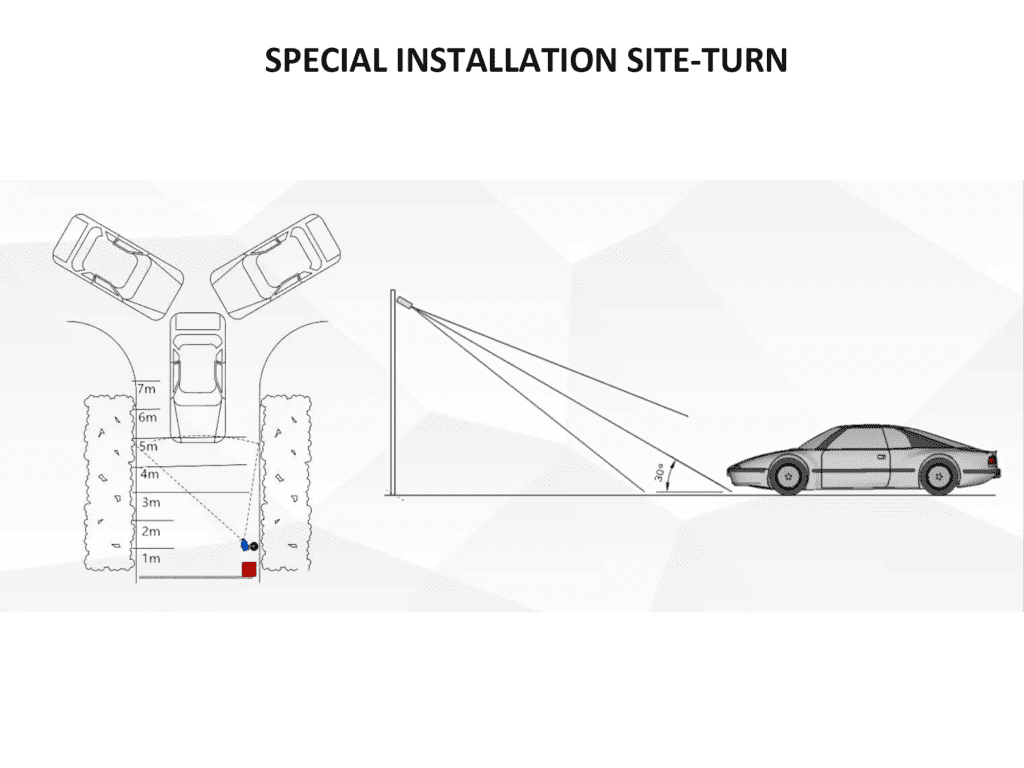 There is no turn of the lane, the recognition distance shall be 4-5 meters from the camera horizontal line, and the vertical angle should not exceed 30 degree, the horizontal angle not exceed 55 degree. When there is a turn, leave enough space for the vehicle to turn to ensure that the vehicle is straight before entering the recognition area.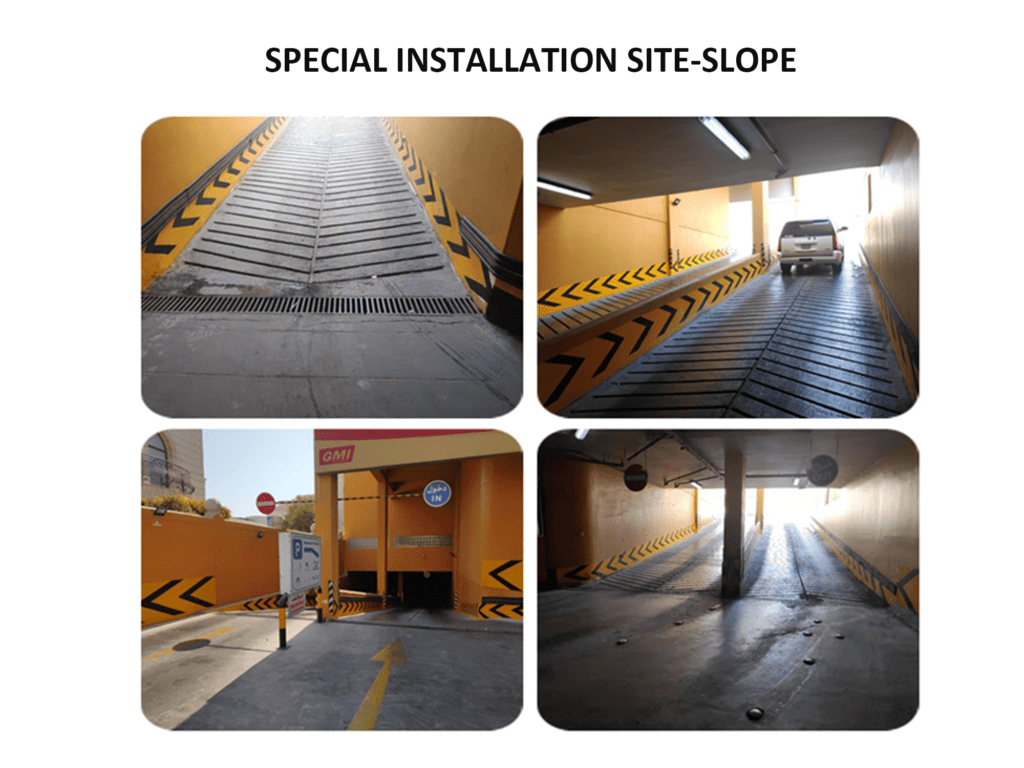 If there is a distance of 4-5 meters before entering the slope, it is recommended that the entrance and exit be installed before entering the slope. Please be careful to avoid backlighting.
If there is not enough distance, the equipment can be disassembled to choose a suitable installation location. Confirming the camera's recognition distance of 4-5 meters, and adjust the camera's elevation or depression to ensure that the license plate is displayed horizontally in the lens. Generally, the angle of a straight slope does not exceed 15%, and the angle of a curved ramp does not exceed 12%. During construction, the installation angle of the camera can be adjusted according to the angle of the slope.
The position of the ground sensing coil and the vehicle detector in the slope can be constructed according to the texture of the slope. If the site conditions permit, the ground sensing coil should be constructed on a level ground as much as possible.
If the camera's position is somewhere above the slope, then two reduction gear should be installed at 6 and 7 meters from the camera's horizontal line to ensure that the vehicle's travel speed is less than 30km / h. At the exit, the installation principles are similar, but only one reduction gear is required at 6 meters.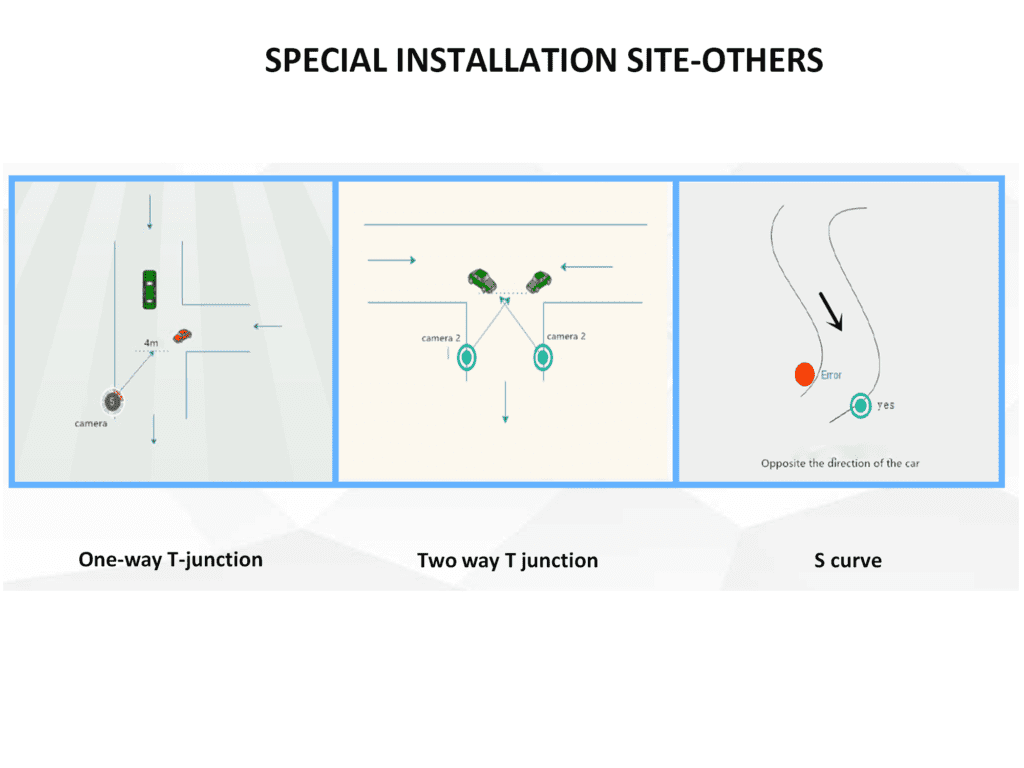 10. Application Scenarios
Border crossings, law enforcement;
Automobile repossessions;
Petrol station to log when a motorist drives away without paying the bill;
Entrance & Exit of the community, supermarket, public parking lot;
Traffic management systems, which determine traffic flow using the time it takes vehicles to pass two ANPR sites;
Analyses of travel behavior (route choice, origin-destination etc.) for transport planning purposes
To assist visitor management systems in recognizing guest vehicles;
Police and auxiliary police;
Car parking companies for car park management – payments and parking enforcement;
To raise or lower automatic barrier gate;
Validate vehicle types and payments at toll stations.
11. The Advantage of LOYALTY-SECU ANPR System
License plate recognition parking system is a reliable, accurate and cost effective car park management solution. It is widely used in many places, including supermarkets, retail parks, hotels, hospitals and leisure centers. Reduce labor cost and management difficulty of parking lot system, improve vehicle traffic efficiency.
Ticketless/ card less parking lot management, increase security and Parking access automation. Prevent car theft and prevent "ticket/card loss"
Item
Specification
Camera model
LY-ITLR-900
Camera sensor
1 Inch 9 Mega pixel global shutter CMOS
Camera lens
25mm (MF2514M-10MP)or 30mm (SF3018M-10MP) is optional
Resolution
4096(H)×2160(V)
Frame rate
<=120fps
Interface protocols
ONVIF(PROFILE S,PROFILE G), ISAPI, GB28181, SDK
Camera parts
LED supplement light+ Anti-dust, water-proof housing+ Camera
Camera configuration
Exposure shutter, AGC control, AWC control etc.
Video compression
H.264/H.265/MJPEG
Output image format
JPEG
Interfaces
3 pcs * RS-485, 1 pcs *RS-232, 2 pcs * RJ45 10M/100M/1000M
Trigger input
4 Channels external trigger input, 1 channel SYNC signal light input
Trigger output
6 Channels (Opt coupler isolation 2500VAC), work as supplement light syn output control
AI functions
Objects detection: vehicle capture rate ≥99%(virtual loop method), vehicle capture rate≥95%(video method),non-motorized vehicle capture pedestrians capture
Traffic violation detection: speeding, retrograde, truck forbidden, road line crossing
Vehicle recognition: license plate, vehicle types, vehicle color, vehicle brand or logo etc.
Camera capture lane
3 lanes
Camera storage
Support TF card (≤64G)or cloud storage
Terminal server access
Support to connect with the terminal server
Camera voltage
100VAC~240VAC, Frequencies:48Hz~52Hz
Power consumption
<20W
Work temperature
-30℃~+60℃
Work humidity
5%~95%@40℃
IP Grade
IP65
Camera dimension
180mm(W)×152.7mm(H)×636mm(D)
Net Weight
5.2±0.5kg
SPECIALED IN PTZ VIDEO SURVEILLANCE SOLUTION
OVER 10 YEARS
R&D Oriented Surveillance Equipment Manufacturer
SPECIALED IN PTZ VIDEO SURVEILLANCE SOLUTION OVER 10 YEARS
R&D Oriented Surveillance Equipment Manufacturer