ATEX Standard 5MP Explosion proof CCTV Infrared PTZ Camera system
Model:LY-U5-522EX
5MP Explosion Proof PTZ Camera with Intelligent analysis/ Face detection/ Behavior detection/ Auto Tracking
304 stainless steel material design, explosion proof PTZ Dome cooling system
Explosion-Proof grade: Exd ⅡC T6 Gb/ Ex tD A21 IP68 T80℃
H.265/H.264, 2592x1944P@60fps, adopts the solution of Uniview Zoom Camera Module
22X Optical zoom, 5.4- 114.4mm lens
Color: 0.005Lux, B/W: 0.0005Lux, 0Lux with IR, auto IR-cut switch, Star-light illumination and 120dB WDR
Exclusive Curved Spherical Shape, Can Be Used in Corrosive Environment
Support ONVIF protocols, can be seamlessly integrated into the Uniview backend devices
With Wall & Ceiling Mount Bracket for option
Free APP: Guard Viewer
Power Supply: DC12V/4A
i.The 5MP 22X Explosion Proof PTZ Camera with Humanoid Recognition and intrusion detection based on AI intelligent analysis. It supports preset position guards and cruise guards. Face detection function can achieve target counting
ii.The 5MP EX Proof PTZ Camera with 2592x1944P resolution, supports 1080P/60fps delivering smooth full HD video streaming while Pan/tilt/zoom camera.
iii.The ATEX Standard Explosion Proof Camera with Advanced H.265 encoding algorithm, saving storage cost and reduce the network transmission stress; AAC-LC wideband audio coding, high-definition sound quality; support noise suppression. Three-stream encoding capability to meet real-time streaming and storage streaming requirements of different bandwidths and frame rates
iv. The Network Explosion proof CCTV with 22X Optical zoom, 5.4- 114.4mm, 200M IR distance, no blind spot monitoring in all directions, accuracy of positioning 0.1°, With pan tilt station, its Horizontal Range speed is 0°~360° continuously,Vertical Range speed is -10°~90°, Rotation Speed is 0.05°~240°/s.  With 256 presets, 4 pcs cruising track, trajectory self-learning function. Meanwhile, Built-in auto-focus algorithm, with the characteristics of fast speed and accurate focusing
v.The shell is made of high quality 304 stainless steel, corrosion protection and explosion-proof, IP67 waterproof. Circular arc appearance, exclusive mold casting, the industry's first, beautiful and generous housing. The camera' lower cover is made of high-quality aviation plastic transparent material, high hardness, strong light transmittance, brings the high quality images without any distortion.
vi.Support any brand NVR with ONVIF protocol and other brands NVR with mainstream private protocol
vii.Accept the customization, includes optical zoom, camera resolution, camera work distance, camera types and so on. (like, Hikvision, Dahua, Uniview, XM, Tiandy, Seetong and other brands for option).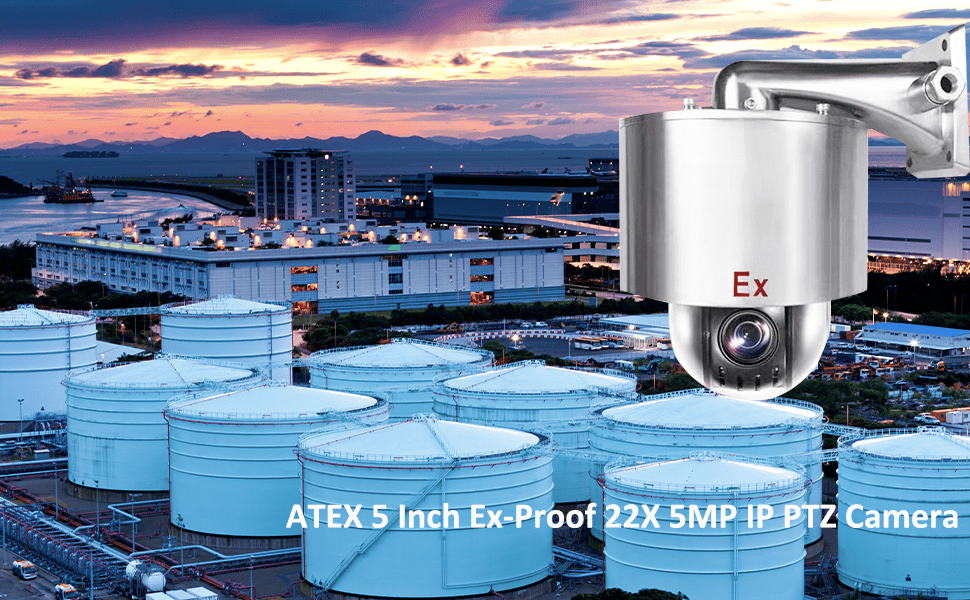 ATEX certified 5MP Explosion proof CCTV Infrared PTZ  Camera system
The 5MP 22X Explosion Proof PTZ Cameras have been certified and designed to meet strict standards regarding installation in potentially explosive environments, given the presence of gas and flammable dust. The wide range ensures excellent performance for monitoring critical processes and it is the perfect video surveillance solutions for chemical, oil and gas industries. Their sturdiness and zero maintenance make these products suitable for use in extreme environmental conditions and offer a level of quality beyond any expectations.
1.Explosion-proof Performance in Line with Industry Standards
The 5MP Explosion Proof Network IP Camera, Explosion-proof performance meets GB3836.2-2010 "Explosive Atmosphere Part 2: Equipment Protected by: Flameproof Enclosure "d""; Explosion-proof performance meets GB3836.1-2010 "Explosive Atmosphere Part 1: General Requirements for Equipment";
GB12476.2-2013 "Electrical Equipment for Combustible Dust Environment Part 1: General Requirements";
GB12476.5-2013 "Electrical Equipment for Flammable Dust Environment Part 5: Enclosure Protection Type "tD"" is made into an explosion-proof structure.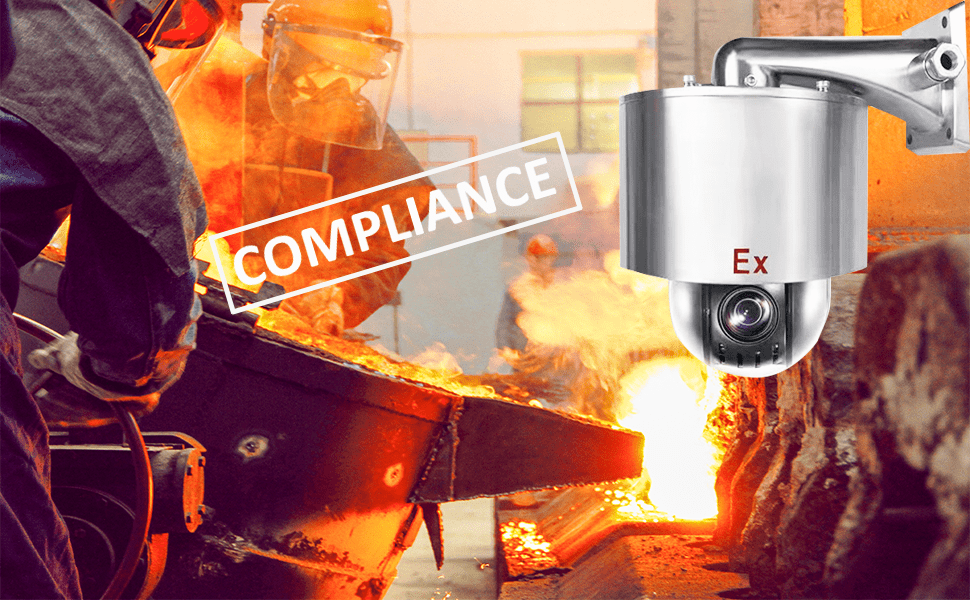 2.Real-time Get Notified with Smartphone 
The 5MP 22X Explosion proof CCTV camera system can real-time push alarm message to your smartphone with installed with APP EZview( IOS& Android) if it detects any suspect at the front-end, as  Explosion Proof PTZ Camera comes with built-in mic & speaker allows users to speak with anyone on the camera's end through smartphone app with warning decal for compliance purpose.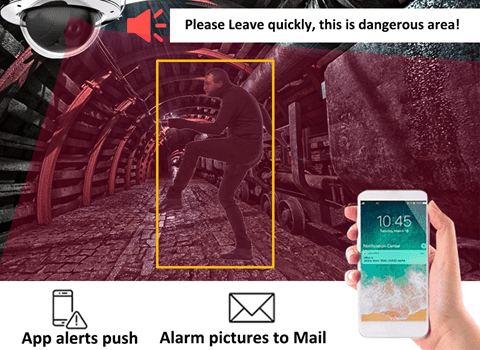 3. Protect Your Property at Night
Your property will be covered by the superior night vision of LOYALTY-SECU 5MP Infrared Explosion Proof Camera. The infrared illumination distance can reach up to 200M depending on the scene.  Meanwhile, it supports starlight function also to offer you a color night vision.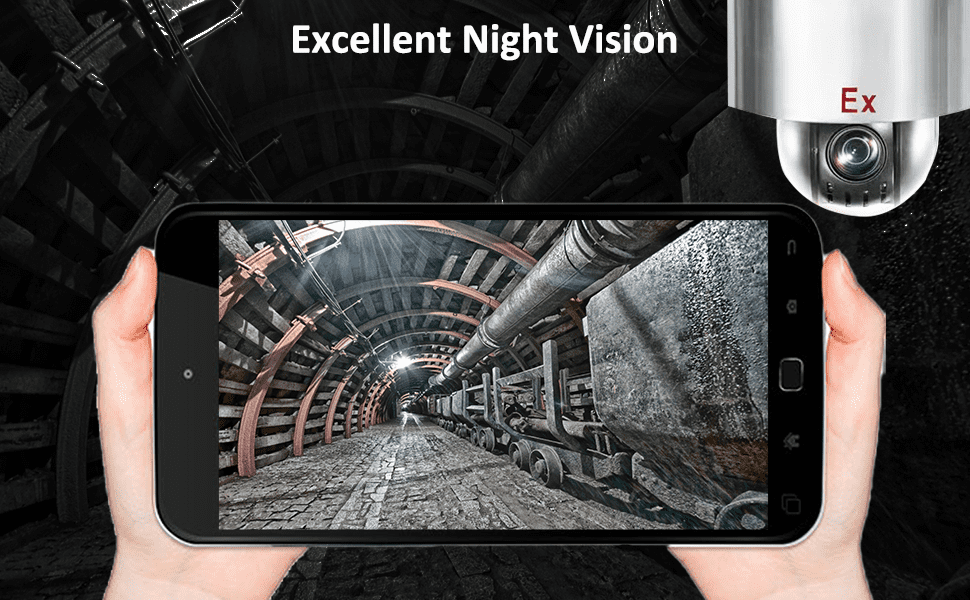 4.Smart Automatically Patrol
Support preset cruise points, time and speed-patrol in the monitoring zone you cared!
Patrol: Up to 4 patrol groups;
Preset: 10 presets per patrol group
Patrol time: Adjustable
Our 5MP 22X Explosion Proof PTZ Camera support "Cruise" and "Auto Tracking" simultaneously!
Secure your cares through both Cruise and Auto Tracking
i.When there is no human movement detected, the 5MP Explosion Proof Camera will cruise according to your preset trajectory.
ii.When there is human detection, this network security camera will auto tracking the human until the human disappears in the field of view. Then it will resume cruise.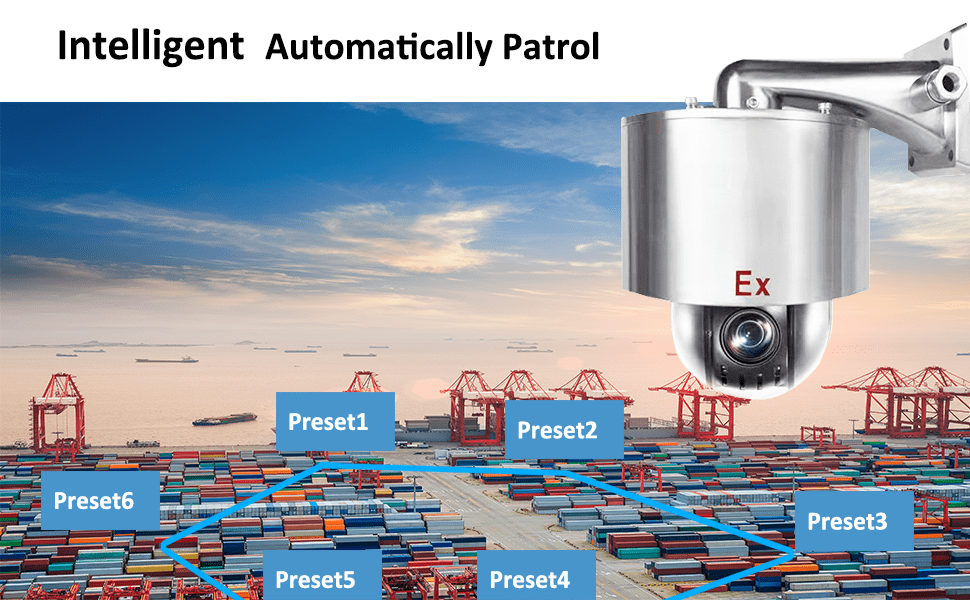 5.Waterproof IP67 & Corrosion Resistance
LOYALTY-SECU Ex-proof network 5MP PTZ camera offers the highest level of corrosion resistance thanks to its solid 304 stainless-steel constructions. As well as this, the IP67 waterproof guarantees complete protection against water and dust.
6.5MP 22X Explosion-proof PTZ Cameras
The ATEX Explosion Proof Camera with the latest H.265 video compression, that means it will generate about 24x2GB/1080P per day, and our PTZ camera supports 256GB at most, then it can storage for over 5days in local. Make sure that you won't miss any important event. Meanwhile you can play videos via your mobile phone APP directly, in addition to play back the videos, it also allows you to perform the pan and tilt functions of the PTZ camera, as well as the zoom function.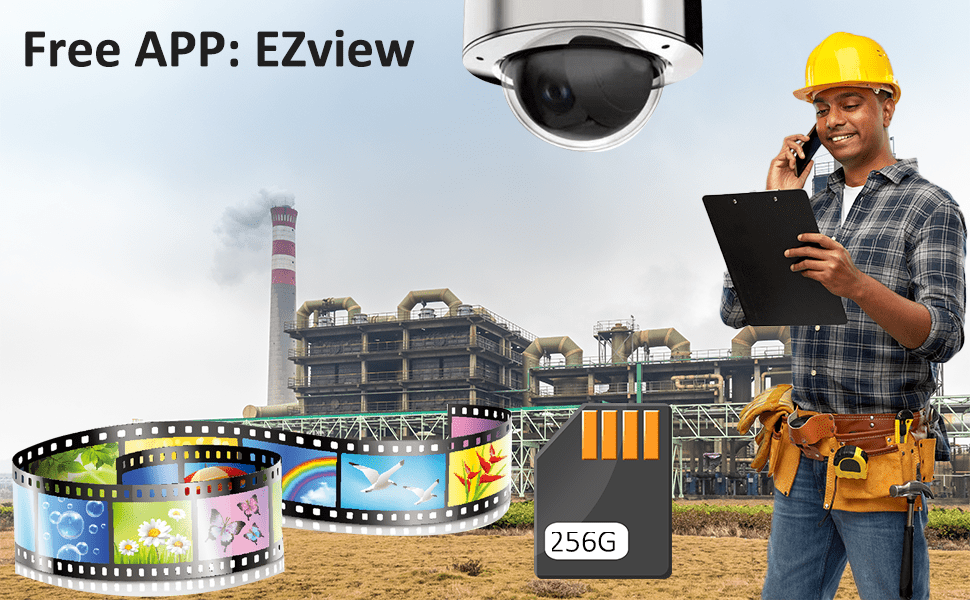 IP PTZ Explosion Proof Camera is ideal for effective preventative video surveillance and process monitoring in the Oil & Gas, maritime or industrial sectors where fire or explosion hazards may exist due to the presence of flammable gases or vapors, flammable liquids or combustible dusts.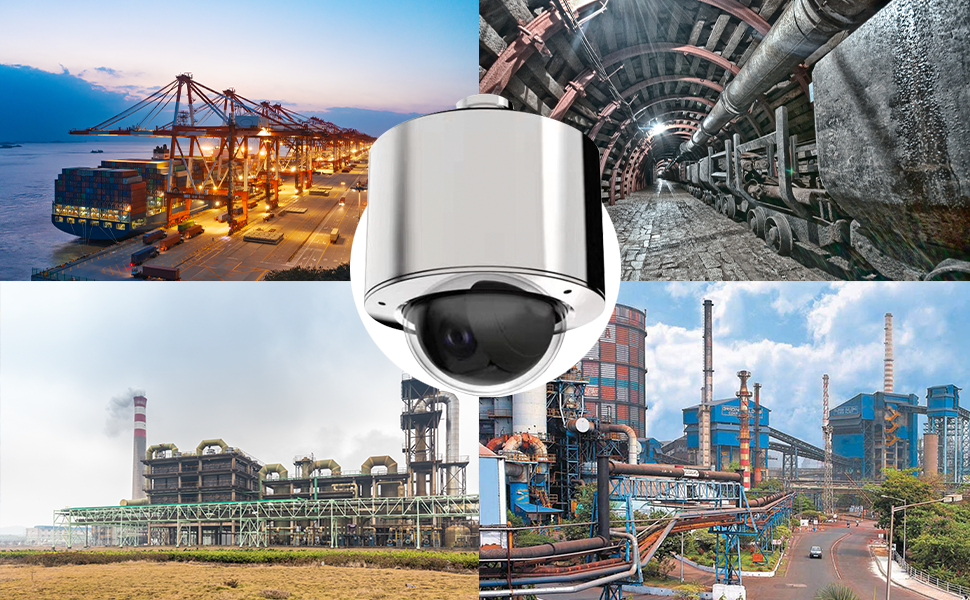 Explosion Proof PTZ Camera System Packing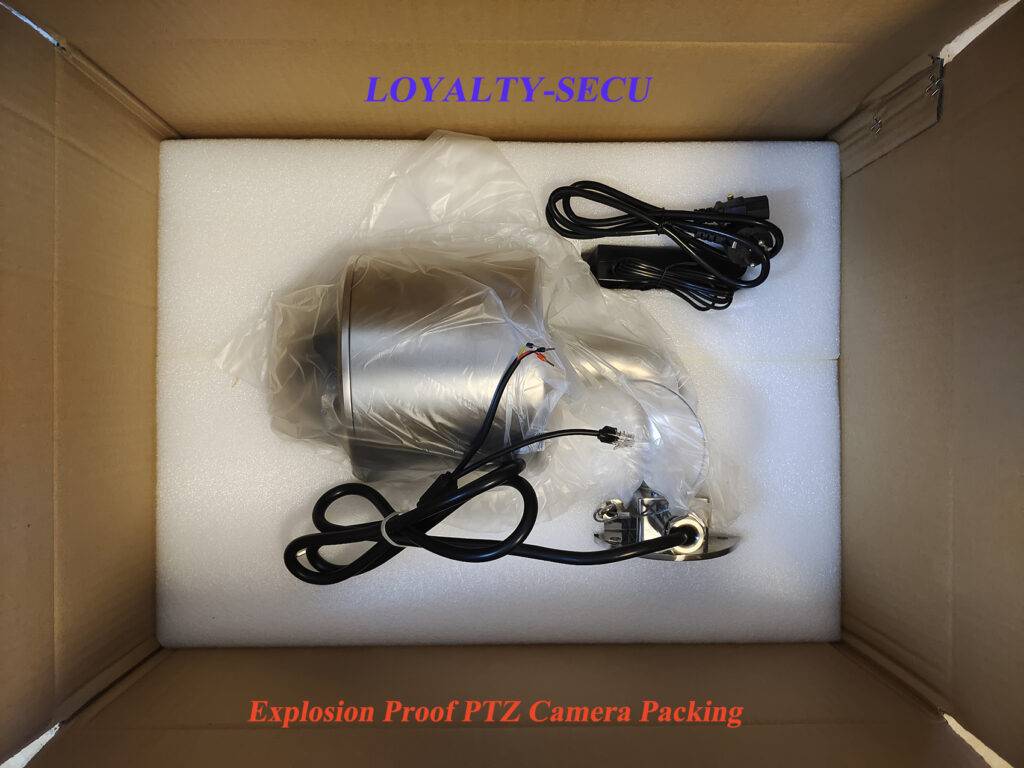 Network CCTV EX Proof 22X Zoom PTZ Camera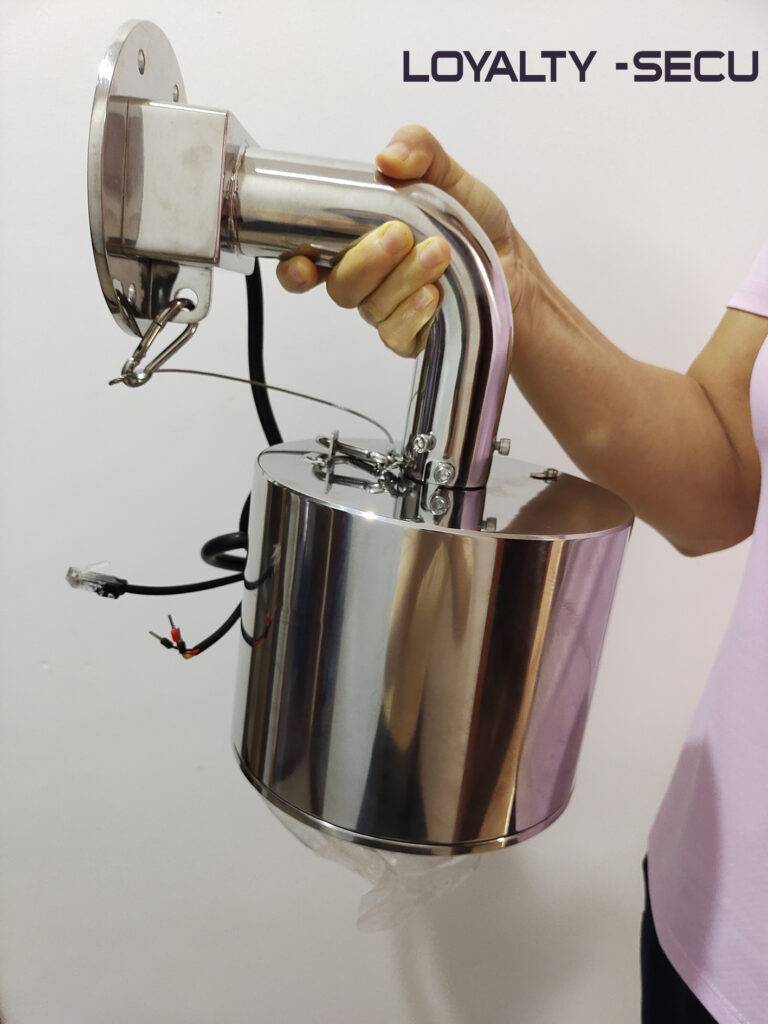 Manual, Camera, Wall Bracket (default), a 12V 5A adapter and installation screws.
| | |
| --- | --- |
| Model | LY-U5-522EX |
| Image Sensor | 1/2.8″ CMOS |
| Minimum Illumination | Color: 0.005Lux, B/W: 0.0005Lux, 0Lux with IR |
| 3D NDR | Support |
| WDR | 120dB |
| Electronic Shutter | AUTO/MANUAL; 1~1/100000s |
| Day Night Mode | AUTO ICR Color to B/W |
| Focal Length | 22X Optical zoom, 5.4- 114.4mm |
| Aperture | Auto/manual, aperture range: F1.5~F3.8 |
| Resolution | 2592(H)x1944(V) |
| Video Streaming | Triple stream |
| Video Compression | H.265/H.264 |
| Network Protocol | L2TP,IPv4,IGMP,ICMP,ARP,TCP,UDP,DHCP,PPPoE,RTP,RTSP,DNS,DDNS,NTP,FTP,UPnP,HTTP,SNMP,SIP |
| Interface Protocol | ONVIF 2.4 |
| Front-end Storage | Support Micro SD storage, up to 256GB |
| Behavior Detection | Cross-border, regional intrusion, enter into the area, leaving the area, wandering, fast moving, people gathering, parking, item leftover, item moving |
| Intelligent Recognition | Face Detection |
| Auto Tracking | Support |
| Explosion-proof Mark | Ex d ⅡC T6 Gb/Ex tD A21 IP68 T80℃ |
| Cover Material | 304 stainless steel |
| Work Environment | Temperature :-20~60℃; humidity<90% |
| Size(mm) | Φ264.2×184mm |
| EX-Proof PTZ Camera GW | 8KG |
| Power Supply | 12V/4A |
| | |
| --- | --- |
| IR Distance | 200m |
| Horizontal Range | -15°~360° continuously |
| Vertical Range | -5°~90° |
| Rotation Speed | 0.05°~240°/s |
| Max Speed | 240°/S |
| Preset | 256 |
| Patrol scan | 4pcs(10 preset for each) |
| L/R Scan | 1pc |
| Horizontal Scan | 1pc |
| Power-off memory | Support |
Contact LOYALTY-SECU to Start Your Business
We will contact you within 1 working day, please pay attention to the email with the suffix "@loyalty-secu.com".