ALPR ANPR LPR Camera System With Parking Barrier Gate
Model: LY-AOR-009
• Camera solution: 1/3 CMOS, 2MP
• Camera Lens: 2.8~12mm
• Camera recognition distance: 3 ~ 10m
• ANPR system recognition rate: > 98%
• License plate recognition ability: > 120 Countries
• Interface: TCP/IP, RS485
• Power supply: 12V 2A
• With the professional ANPR Management Software
• ALPR Camera System with Barrier Gate
• With 4 lines LED Display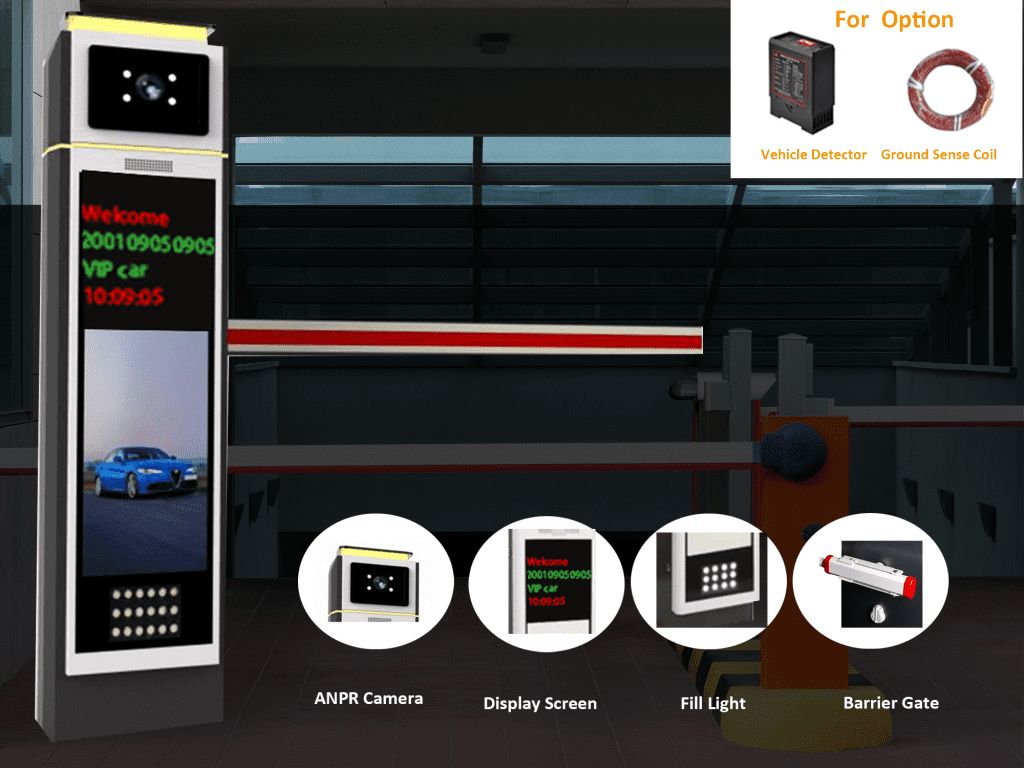 LOYALTY-SECU LPR Camera System with Parking Barrier Gate, ANPR/ALPR refers to a technology that can detect vehicles on a monitored road and automatically extract vehicle license plate information (including Chinese characters, English letters, Arabic numbers, and plate colors) for processing. License plate recognition is one of the important components in modern intelligent transportation systems, and it is widely used. Based on technologies such as digital image processing, pattern recognition, and computer vision, it analyzes the vehicle images or video sequences taken by the camera to obtain the unique license plate number of each car to complete the recognition process.
 Through some subsequent processing methods, functions such as parking lot charging management, traffic flow control index measurement, vehicle positioning, car anti-theft, automatic supervision of highway speeding, electronic police running red lights, highway toll stations, etc. can be realized. It has practical significance for maintaining traffic safety and urban security, preventing traffic jams, and realizing automated traffic management.
The car license plate number is the only "identity" mark of the vehicle. The automatic license plate recognition technology can realize the automatic registration and verification of the car's "identity" without any changes to the car. This technology has been applied to highway toll collection, parking management, and weighing system, traffic guidance, traffic law enforcement, highway inspection, vehicle dispatching, vehicle inspection and other occasions.
LOYALTY-SECU Electric Gates & Barriers with ANPR System main includes license plate number recognition, license plate number display screen, intelligent barrier gate, vehicle detector and other parts, each part can perform its own function as follow
2. Main Function of ANPR Camera System
Exposure control based on license plate brightness
Support continuous video collection and capture, two working modes, the imaging parameters of the two modes are independently controlled
Support OSD information overlay
Support internet auto-connection, real plug and play
10M/100M compatible Ethernet port
With WEB server function, can be accessed through a browser
Supports multiple network protocols such as TCP/IP protocol, can set parameters and view device status through application software or web browser, and can trigger the alarm through network
Support dynamic IP address, support LAN, Internet (ADSL, cable)
Can be upgraded remotely through the network, and realize remote maintenance
Each device occupies an IP address, multiple users can perform network monitoring at the same time
Extremely optimized embedded license plate recognition algorithm: the comprehensive recognition rate is higher than 99%
Video stream recognition optimization processing: guarantee the recognition accuracy to the greatest extent
Excellent imaging automatic control: automatic tracking of light changes, effective suppression of forward and backlight; suppression of car headlights at night; fill light is controlled based on image analysis algorithms, avoiding the instability of traditional photo resistance fill light
Intelligent processing of vehicles without license plates: multiple trigger mechanisms to ensure the normal traffic management of vehicles without license plates (or severely defaced, etc.)
Vehicle recognition types: bus, medium bus, truck, van, car, SUV
Recognition features: number, color, type, width
Recognition result: vehicle feature image, license plate image, license plate number, color, type, passing time
Support loop coil, video, RS485, internet and other trigger methods
Support work with vehicle detector, loop coil, radar, supplement light
3. Main Function of ALPR Camera System with Barrier Gate
Based on ARM chip development, high frequency, fast speed and stable operation
Powerful function and advanced design
With 4 lines LED Display
Communication: TCP/IP
Filling light: LED White light
Integrates the information display, voice reminder, barrier gate
Modular plug design, easy installation and maintenance
Power supply: 220V±10%, 50/60Hz
LPR Camera System with Parking Barrier Gate Demo Video
4. Main function of ANPR with Vehicle Barriers
Support more than 120 countries license plate recognition
Support Entry and Exit parameter settings
Support LED display screen information customization
Support Payment rules setting (support eight types' payment rules)
Support Authorization setting
Support Operator and parking profile
Support Registration of vehicle number plate
Support Renewal/Recharge for the registered vehicle
Support Error correction of vehicle number
Support Surveillance pf software, view of vehicle image, payment information and support manual input vehicle number (Max 20 characters)
Support View of vehicle record and operator record
Support View of operator charge report, entry & exit vehicle report and parking fee report
5. The Workflow of ANPR Solution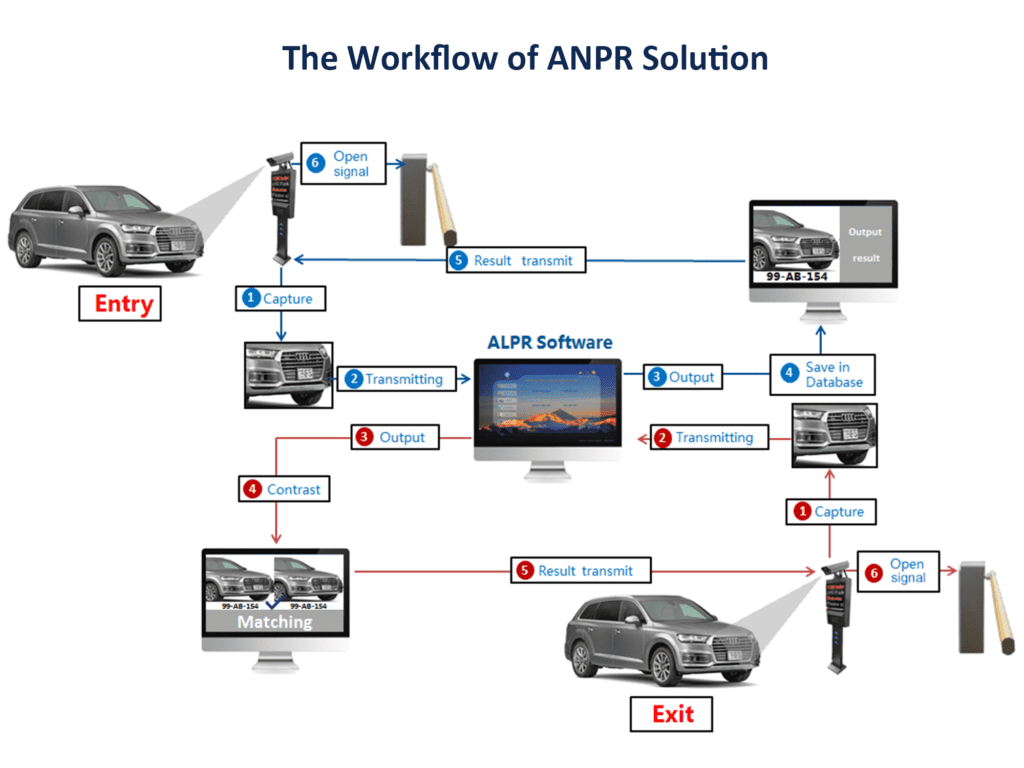 Process description:
Entry: Boom Barrier with ANPR System captures an image by means of vehicle head detection or loop coil trigger or camera detector, and the image is transmitted to the software.
The software algorithm recognizes the image, writes the recognition result into the database and returns it to the camera, and the camera sends the switch signal to barrier switch.
Exit: ANPR for Automatic Boom Barrier Control captures an image by means of vehicle head detection or loop coil trigger or camera detector, and the image is transmitted to the software.
The software algorithm recognizes the image, outputs the recognition result and compares it with the entrance recognition result in the database. The comparison is successful and the result is returned to the camera.
6. The Interface of ANPR Software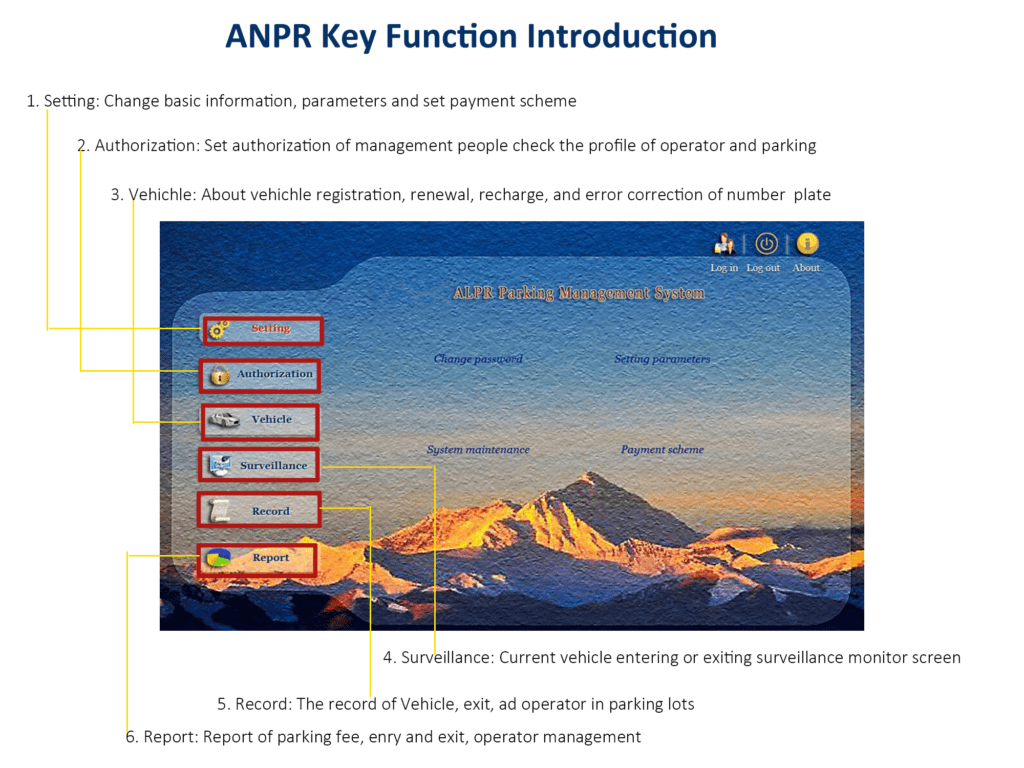 7.Support Multiple Languages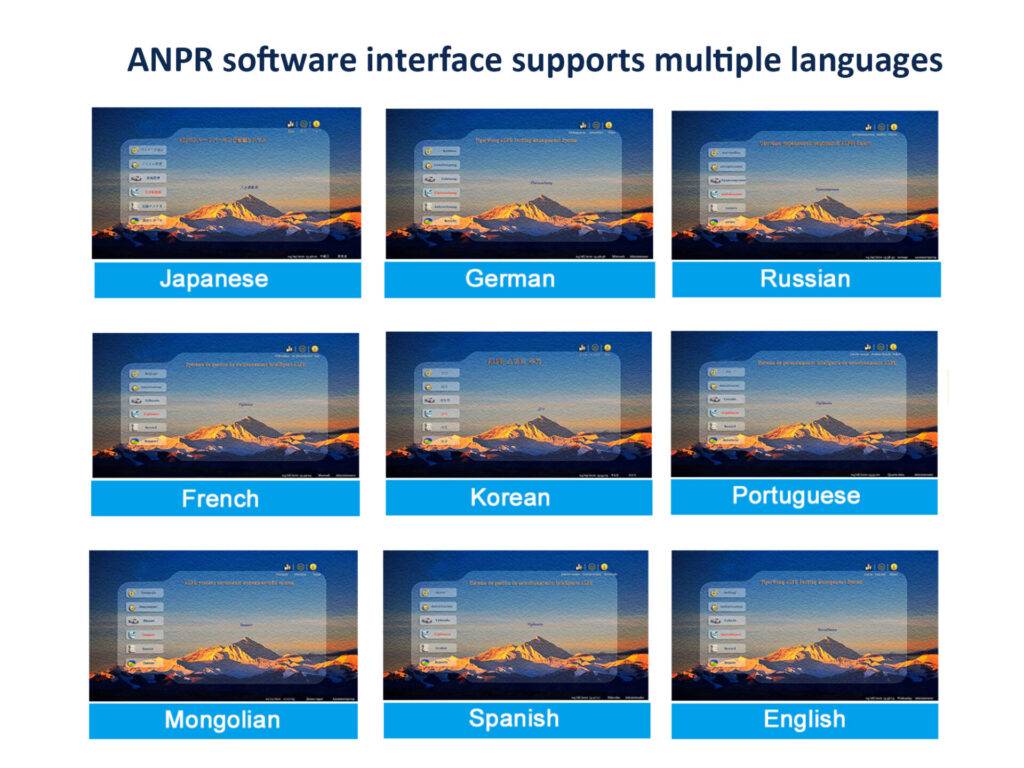 8. Support Global License Plate Recognition Ability over 120 Countries
LOYALTY-SECU ANPR algorithm supports recognizing the countries' vehicle license plates below:
China, Hong Kong, Thailand, Taiwan, South Korea, Japan, Singapore, Malaysia, Vietnam, Saudi Arabia, Armenia, Georgia, Indonesia, Macau, Kazakhstan, Kyrgyzstan, Mongolia, Philippines, Tajikistan, Qatar, Sri Lanka, UAE, Turkey, Myanmar, Lebanon, Syria, Iraq, Laos, Azerbaijan, Cambodia, Cyprus, East Timor, India, Israel, Jordan, Palestine, Sri Lanka, Uzbekistan, Spain, Portugal, Latvia, Belarus, Bulgaria, Denmark, EU standards, France, Poland, Russia, Albania, Austria, Belgium, Bosnia and Herzegovina, Croatia, Czech Republic, Estonia, Finland, Greece, Hungary, Iceland, Ireland, Italy, Lithuania, Luxembourg, Netherlands, Norway, Romania, Slovakia, Slovenia, Sweden, Switzerland, United Kingdom , Kosovo, Mexico, United States, Canada, Costa Rica, Cuba, El Salvador, Guatemala, Honduras, Puerto Rico, Brazil, Argentina, Bolivia, Chile, Colombia, Ecuador, Paraguay, Peru, Uruguay, Venezuela, Kenya, Mauritius, Sierra Leone, Tunisia, Uganda , Algeria, Botswana, Cameroon, Cape Verde, Ghana, Namibia, South Africa, Australia, New Caledonia.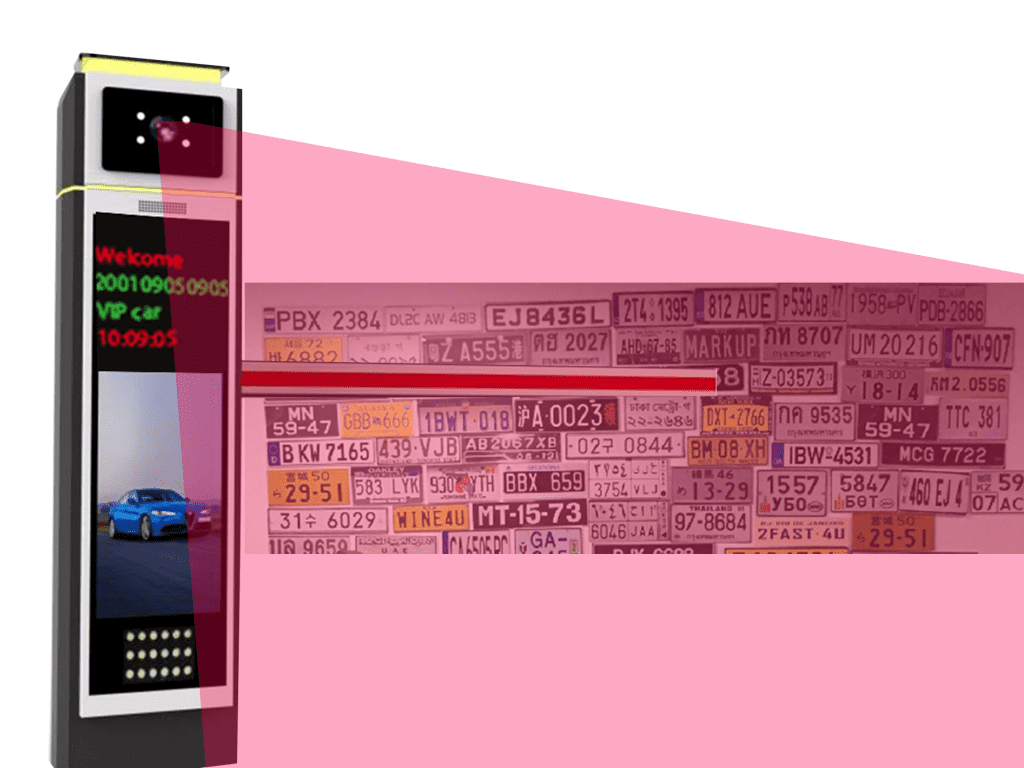 9. Different Installation Environment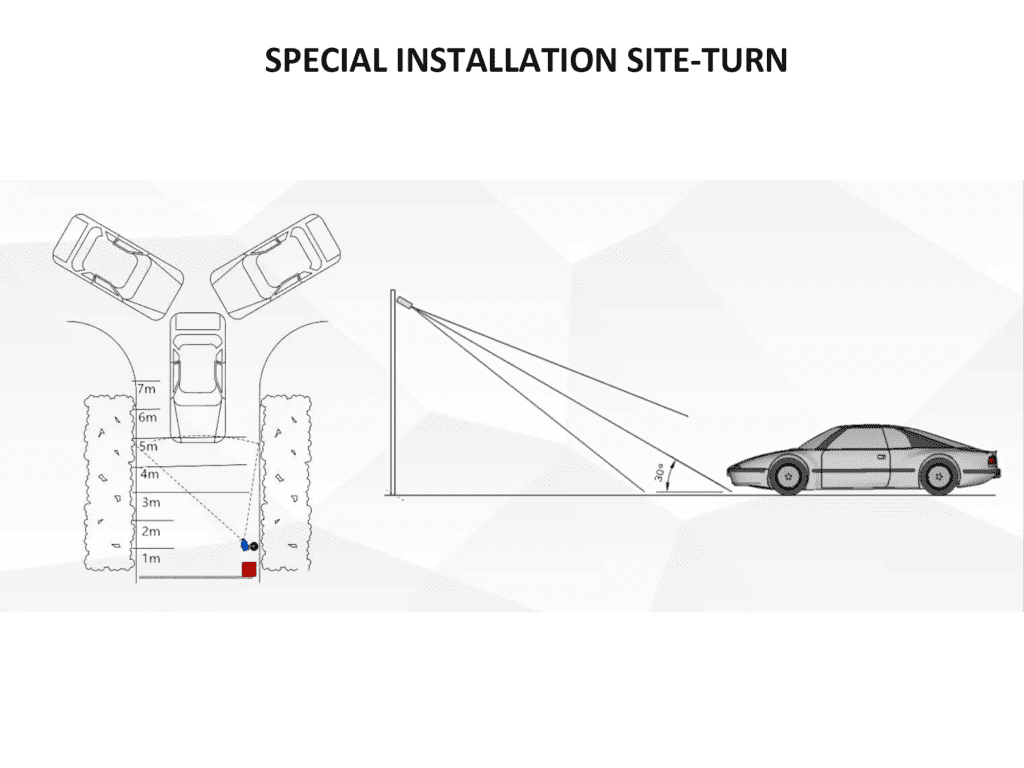 There is no turn of the lane, the recognition distance shall be 4-5 meters from the camera horizontal line, and the vertical angle should not exceed 30 degree, the horizontal angle not exceed 55 degree. When there is a turn, leave enough space for the vehicle to turn to ensure that the vehicle is straight before entering the recognition area.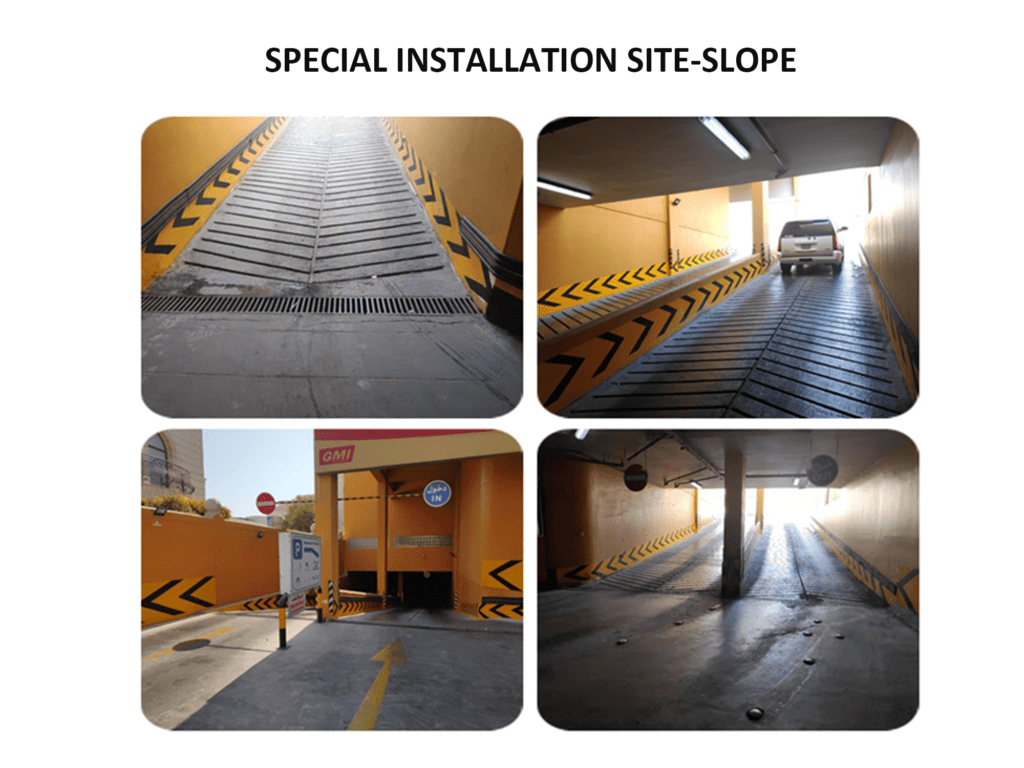 If there is a distance of 4-5 meters before entering the slope, it is recommended that the entrance and exit be installed before entering the slope. Please be careful to avoid backlighting.
If there is not enough distance, the equipment can be disassembled to choose a suitable installation location. Confirming the camera's recognition distance of 4-5 meters, and adjust the camera's elevation or depression to ensure that the license plate is displayed horizontally in the lens. Generally, the angle of a straight slope does not exceed 15%, and the angle of a curved ramp does not exceed 12%. During construction, the installation angle of the camera can be adjusted according to the angle of the slope.
The position of the ground sensing coil and the vehicle detector in the slope can be constructed according to the texture of the slope. If the site conditions permit, the ground sensing coil should be constructed on a level ground as much as possible.
If the camera's position is somewhere above the slope, then two reduction gear should be installed at 6 and 7 meters from the camera's horizontal line to ensure that the vehicle's travel speed is less than 30km / h. At the exit, the installation principles are similar, but only one reduction gear is required at 6 meters.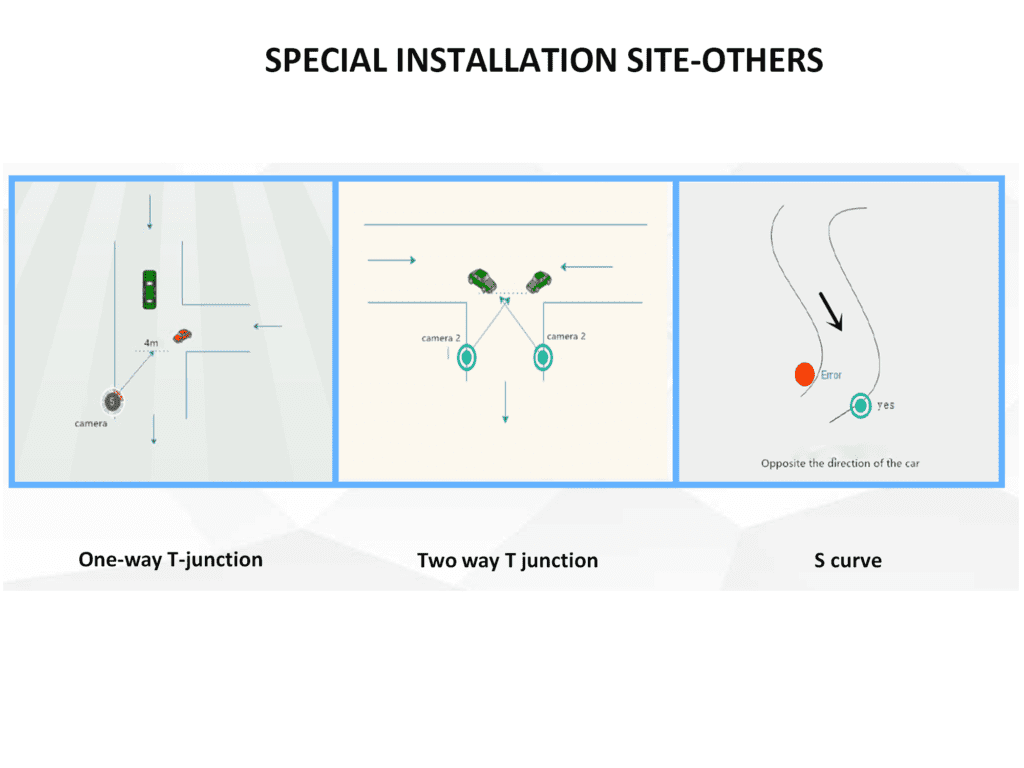 11. Application Scenarios
Border crossings, law enforcement;
Automobile repossessions;
Petrol station to log when a motorist drives away without paying the bill;
Entrance & Exit of the community, supermarket, public parking lot;
Traffic management systems, which determine traffic flow using the time it takes vehicles to pass two ANPR sites;
Analyses of travel behavior (route choice, origin-destination etc.) for transport planning purposes
To assist visitor management systems in recognizing guest vehicles;
Police and auxiliary police;
Car parking companies for car park management – payments and parking enforcement;
To raise or lower automatic barrier gate;
Validating vehicle types and payments at toll stations.
12. The Advantage of LOYALTY-SECU ALPR System with Barrier Gate
LPR Camera System with Parking Barrier Gate is a reliable, accurate and cost effective car park management solution. It is widely used in many places, including supermarkets, retail parks, hotels, hospitals and leisure centers. Reduce labor cost and management difficulty of parking lot system, improve vehicle traffic efficiency.
Ticketless/ card less parking lot management, increase security and Parking access automation. Prevent car theft and prevent "ticket/card loss"
Model
LY-AOR-009
Global License Plate
Recognition Ability
> 120 Countries
Work Mode
Hardware+ Software
Language
English, Spanish, Korean, Japanese, Arabic, etc.
License Plate Character Color
Black
Applications
Parking lot, car washing, border crossings, petrol station, hotels/school/office building, scenic spots
Camera Sensor
1/3 inch CMOS 2MP
Camera CPU
ARM600MHZ
Camera Resolution
1920*1080P@25fps; 1280*720P@25fps;
704*576P@25fps
Camera Lens
Vari-focal, manual focus,2.8-12mm
Video Compression
H.265/H.264/MJPEG
Recognition Distance
3-10m
Recognition Speed
< 30 KM/H
Adapt To Vehicle Speed
≤35km/h
White LED
4pcs White LEDs,
Support intelligent light filling; Or manually set light filling
2D/3D Noise Reduction
Support
TF Card
Default 32GB SD/TF card, extend capacity to 128GB
Ports
TCP/IP port, Power supply port
Network Ports
1 port 10/100Mbps self-adaptive RJ45
Communication Interface
TCP/IP
Display Screen Size
64*64mm
Product Size
230*400*1380mm
Weight
–
Barrier Gate
3meter
Hardware List
1pcs Camera, 1 pcs Filling light, 1pcs LED display (2 lines), 1pcs barrier gate
Rated Voltage
220 V /110V±10%
Filling Light Voltage
Automatic light sensor< 30Lux
Vehicle Detector
For option
Ground Sense Coil
For option
ANPR Software
For option
USB Dongle
Stored with ANPR Software ( for option)
Camera Cabinet Material
Iron plate metal 2.0

Working Humidity
≤85%
Working Temperature
-25℃~70℃
Power Supply
DC12V
Warranty
1 Year & lifetime technical support
OEM/ODM Service
Support
SPECIALED IN PTZ VIDEO SURVEILLANCE SOLUTION
OVER 10 YEARS
R&D Oriented Surveillance Equipment Manufacturer
SPECIALED IN PTZ VIDEO SURVEILLANCE SOLUTION OVER 10 YEARS
R&D Oriented Surveillance Equipment Manufacturer